BOOK OUR EVENT VENUE IN GEORGIA TO HOST THE PERFECT EVENT
Welcome to Lundy Creek Lodge, a serene haven where you can bask in the tranquility of nature's melodies – the gentle hum of honeybees, the playful babble of creeks, and the soothing rustle of the breeze. Situated amidst the breathtaking landscapes near Lake Oconee, Georgia's second-largest lake, this tranquil retreat unveils the joys of a rural lifestyle to all those willing to listen. So come, immerse yourself in the peacefulness of Lundy Creek Lodge, and experience the magic of nature.
A simpler, more rewarding lifestyle awaits you at Lundy Creek Lodge.
Whether you're here for a weekend or an extended stay, Lundy Creek Lodge invites you to unwind and rediscover the joys of a simpler life. Our 17-bedroom lodge is only 90 minutes from Atlanta and blends rustic charm with modern comforts, creating an inviting and rejuvenating ambiance. Take a break downstairs and indulge in a game of cards or billiards, or head to the serene Grist Mill in the mornings to soak in the stunning views. For those seeking a refreshing dip, our sparkling pool offers the perfect respite on a hot afternoon. No matter what your heart desires, Lundy Creek Lodge has something in store for every guest.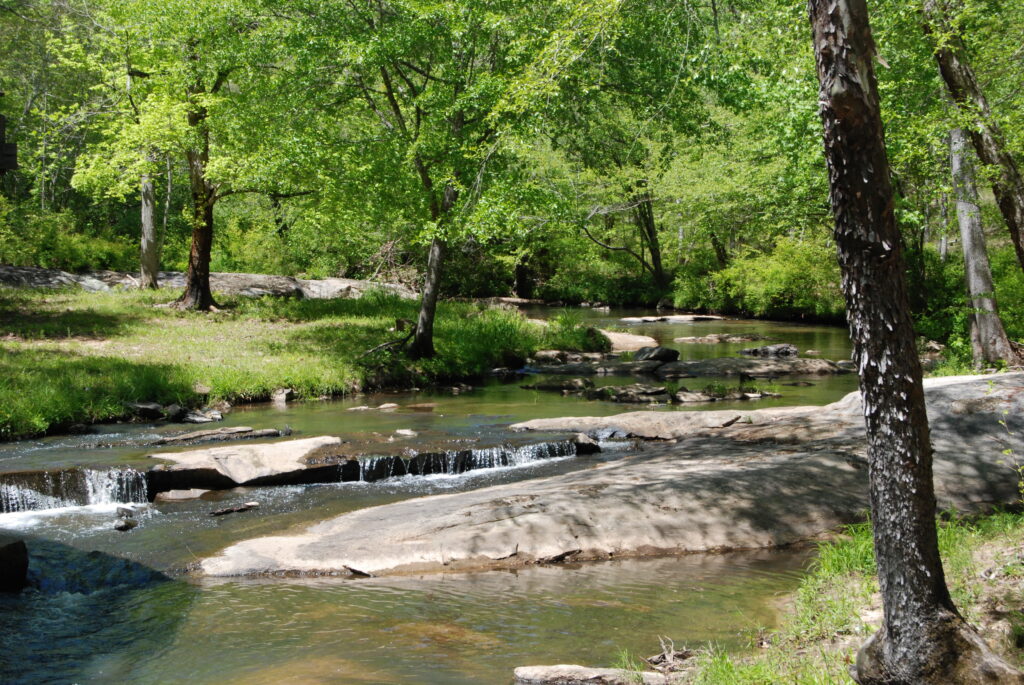 Unbelievable Beauty
Nestled on sprawling acres of land near Lake Oconee, Lundy Creek Lodge offers an idyllic event space that captures the essence of a peaceful rural lifestyle. With a serene ambiance and breathtaking views of nature, our resort offers multiple spaces and areas for your next event.
Our open-air pavilion is just one and a favorite. It serves as the perfect backdrop for weddings, meetings, dinners, and yoga. Whether you're planning a corporate gathering, wedding celebration, or any other special occasion, we strive to create a serene and picturesque atmosphere that adds beauty and tranquility to your experience. So come, experience the magic of Lundy Creek Lodge, and make memories that will last a lifetime.
Definition Of Cozy
Step back in time and embrace the tranquility of a simpler life when you choose Lundy Creek Lodge for your next event. Our picturesque event space in Georgia provides the ideal setting for weddings, corporate retreats, corporate training, family reunions, and other special occasions. From stunning natural surroundings to modern amenities, our property offers everything you need to create unforgettable memories. Take a break from the hustle and bustle of daily life and reconnect with nature and, your values on our serene property. So why wait? Book your event at Lundy Creek Lodge and experience the beauty and, peace of a bygone era.
Accommodations
Immerse yourself in the charms of southern hospitality at Lundy Creek Lodge. Our warm and inviting lodge celebrates the simple pleasures that define a peaceful way of life. From rustic delights to modern amenities like internet and satellite television, our property seamlessly blends the best of both worlds, allowing guests to stay connected with the outside world while enjoying a peaceful respite from everyday life. With 17 cozy guest rooms each with a full bath, our lodge provides the perfect place to unwind and recharge. Come, experience the magic of Lundy Creek Lodge, and let us transport you to a simpler time.
17 Guest Rooms with Full Baths (24 beds)
2 Stone Fireplaces
Historic Grist Mill
Beautiful Creek
Card Room
Large Dining Area
Spacious Commercial Kitchen
Deck/Patio
Air Conditioning
Washer/Dryer
Tin Roof
Internet Access
Flat Screen/Satellite Televisions in each guest room
Seasonal Swimming Pool
Pavilion
Linens Provided
Gas & Charcoal Grills
Ice Makers
Badminton/Volleyball Net
Pool Table
Fishing Pond